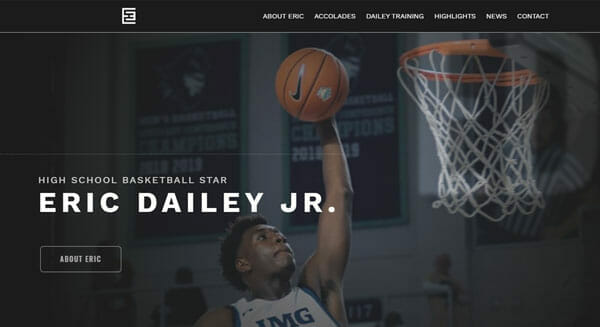 Eric Dailey Jr.'s play with IMG Academy has garnered much media attention. Most recently, ABC Action News featured how he uses his international experience to improve on and off the court. As you will find in Eric Dailey Jr.'s about page, his father played pro basketball on three continents, and his mother was a head coach in the WNBA. In this feature, ABC Action News talks to Eric Sr., Eric Jr. and Shell.
IMG has helped me develop my game thanks to their professional facilities and the daily basketball and academic schedule they have put me on since I have been here has kept me locked in and focused on my goals
Not only is IMG Academy the host of the 2020 WNBA season, but it is also the home of some of America's most dedicated and talented male and female student-athletes. Eric Dailey Jr. is no exception. As team captain Eric leads by example, averaging 18 points, 8 rebounds, 3 assists and 2 steals per game during the 2019/2020 season. During Eric's sophmore season he played half of a season with Varsity white where he averaged 18 PPG and 9 RPG. With a scoring high of 32 points against Wildwood. Throughout his sophomore season, IMG was ranked as the #1 high school team in the USA, they were selected to play in the Geico National Championships, boasted 2 McDonald's All Americans and 5 D1 signees and Eric averaged 7 PPG and 3 RPG shooting 38% from 3-point range while averaging 10 minutes of playing time.
We are made up of sport marketing professionals dedicated to generating a return on investment for our amazing clients.